As a property manager, you'll sometimes have to deal with buildings that need extra maintenance or improvement. Maybe they were abandoned or neglected, or maybe you just want to update them. Whatever the case, there are several important steps to keep in mind as you plan to rework your new property.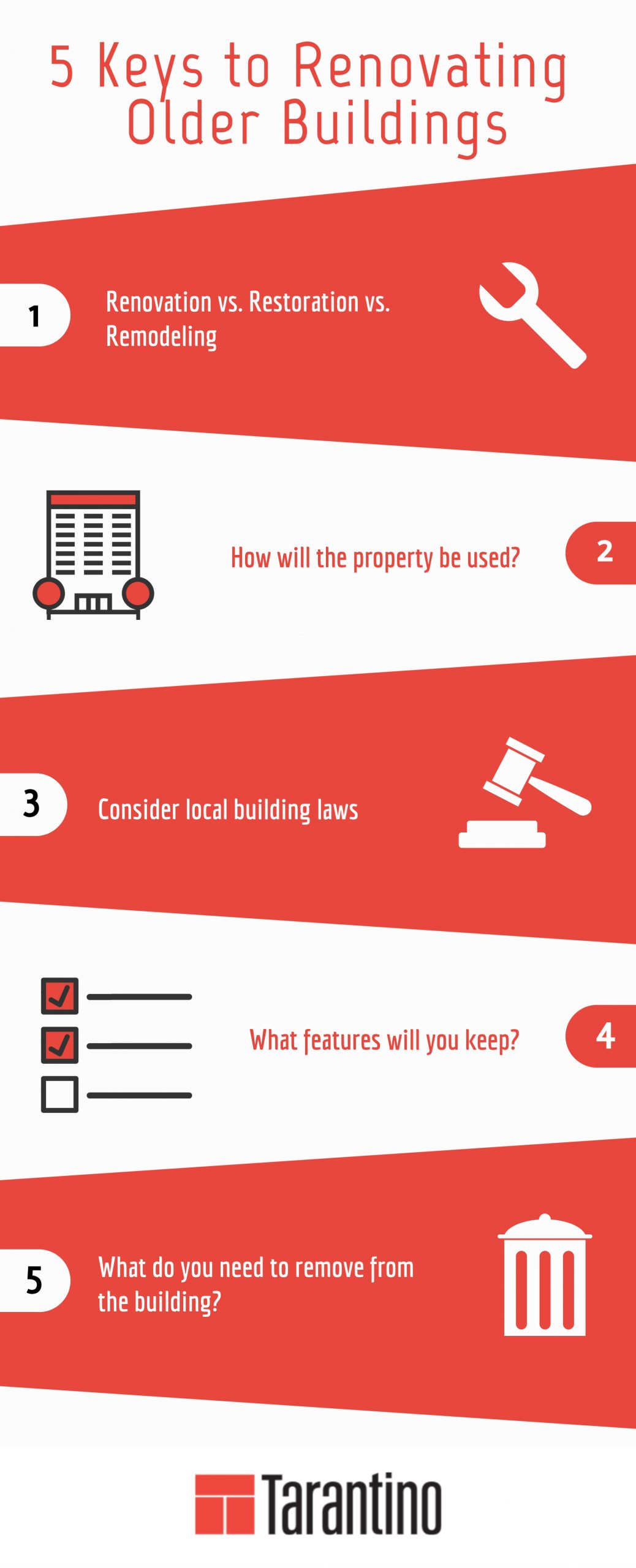 Updating an Old Property
Renovating an old building involves more than just deciding to change a few things here and there. Long before any real construction work starts, you as the property owner have to make several important decisions. Here are a few important things to consider during the renovation process:
Renovation vs. Restoration vs. Remodeling

How the property will be used

Local building laws

What features to keep

What needs to be removed
1) Renovation vs. Restoration vs. Remodeling
Before starting any new project, it's important to have an understanding of your end goal. As a property owner, changing up your space may look a couple of different ways.
Renovation

– usually less expensive than remodeling, renovating is the process of repairing an existing part of a building. Examples include painting a wall or adding new light fixtures.

Restoration

– most often used with historic buildings, restoring a building describes efforts made to return a building to its original condition. Older buildings may require new flooring or updated electrical systems, which will ultimately help them last longer.

Remodeling

– compared to the other two processes, remodeling a building describes the process of completely changing a building's structure and may require hiring a contractor. Examples include removing walls, adding plumbing fixtures, or replacing windows.
2) How the Property Will be Used
Planning a renovation or remodel of your building also requires knowing about your tenants. How will your building be used? What kind of spaces will your tenants find useful? As the property owner, you have the power to decide how each room will look and what features are included. It's important to consider your future tenants when renovating an old building.
3) Local Building Laws
Before you decide whether you'll be knocking down walls or adding new electrical systems, it's important to know the building codes of your location. Talk with your city's planning department to get more information about your building to minimize costly fines or construction setbacks during your project.
4) What Features to Keep
When you buy a new property, there may be particular things you plan to keep and use in your future endeavors. Be sure to take note of the architectural or functional elements that you want to preserve so that you have a framework to plan your new space.
Pro Tip: For commercial property owners, you may not be aware of all of the needs of retail or service-based businesses. Connect with a leasing associate to plan your renovation efficiently.
5) What Needs to Be Removed
Last but not least, it's important to note which items aren't worth keeping. From stained carpet to outdated furniture, renovating an old building gives you the opportunity to start with something new that may last longer. In the same way, windows or roofing may need to be upgraded to improve your overall energy efficiency. 
Make an Old Property Usable
Plenty of older or outdated buildings can be useful as a revenue-generating property after a little work. Schedule a walkthrough with a professional inspector to determine the level of necessary renovation and start creating a plan. You'll have a brand new building in no time!
Are you thinking about renovating or remodeling your property? Connect with us to start the process of giving your older buildings a facelift.