College students certainly have an important choice to make. If they choose to move out during their education, the next major step is choosing between school-provided student housing or renting off-campus.
Both conventional student housing and off-campus multifamily buildings have their pros and cons for students and investors alike. Before choosing between the two different styles, it's important to know the differences. Let's take a closer look at both types of living arrangements.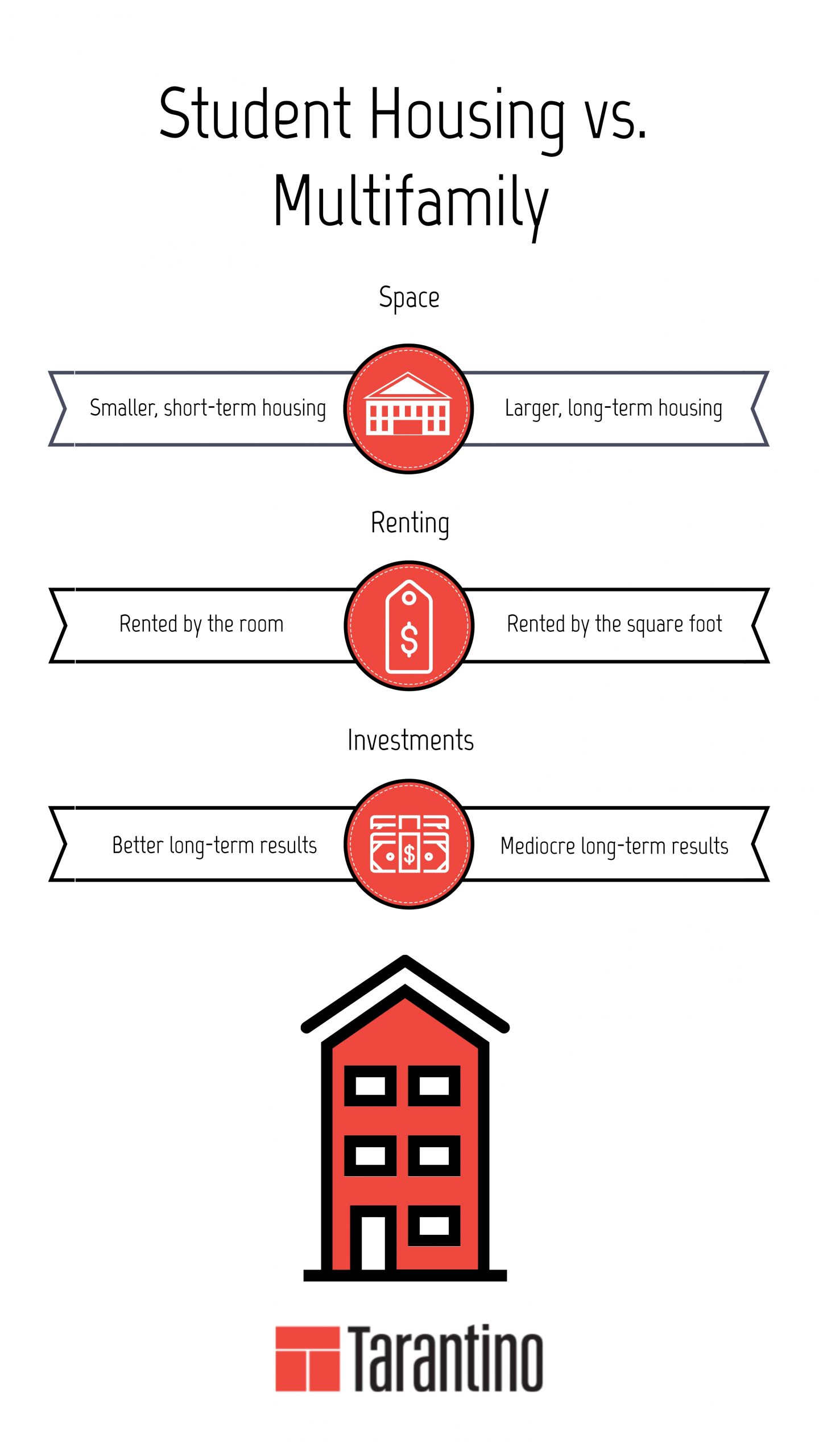 Design
Students will be spending large amounts of time outside their dorms in classes, getting meals, studying with friends, etc. Consequently, typical student housing isn't especially spacious. Students also rent by the bedroom rather than by the square foot, making pricing far simpler and streamlining the renting process. A dorm bedroom standing empty will result in far less lost revenue than a typical apartment standing empty.
On the other hand, multifamily apartments are designed to be long-term homes. They are often larger than dorms, with more open kitchens and common areas to accommodate more frequent occupants. They may also include additional features (such as balconies) rarely seen in dormitories.
Pro Tip: A student's housing choice depends on their preferences, commute, budget, and more. While most students opt for dorms, plenty more will never live on campus.
Investments
Generally, investors will see better results from putting their money toward student housing. Renting by the bedroom means that each individual living space will yield more income than a typical apartment. Plus, a stable university will have nearly-full dorms every semester, ensuring a reliable income. While you may have to deal with slightly increased damage and a higher turnover rate, student housing will usually still win over typical multifamily apartments.
Choosing Excellent Student Housing
A student's college experience depends in part on their housing choice. Likewise, an investor's profits depend on understanding the differences and making wise choices with their money. Knowing the pros and cons of both types of living arrangements will help both parties make the right decision.
Contact us for more information on the student housing vs. multifamily buildings debate.