Tarantino Properties Acquires Ascension on the Bayou
September 5, 2018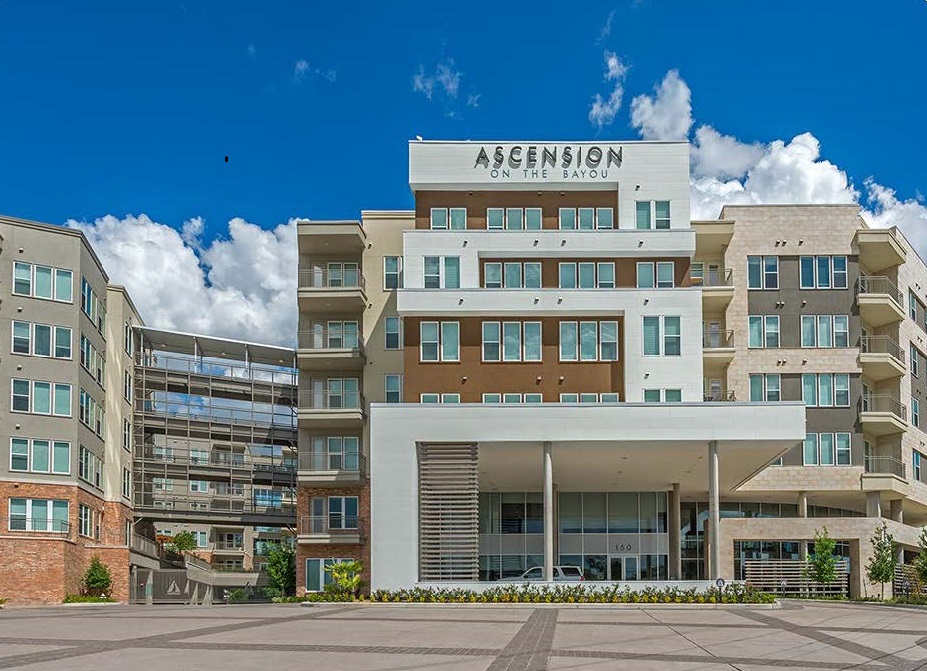 Tarantino announces the acquisition of a 280-Unit luxury apartment home community, Ascension on the Bayou, a Class-A mid-rise, located at 150 W. Sam Houston Pkwy N, Houston, TX 77024 with best-in-class amenities and condominium quality construction.   Ascension on the Bayou is beautifully nestled in a convenient, infield location within the high-end Memorial residential community in West Houston. With the growth of Houston, the location provides close and easy access to multiple employment, retail, dining and entertainment amenities.
The Ascension completed construction in 2017 and was one of only four Houston Business Journal 2018 Landmark award finalists.  The current occupancy is 95%. "Because of the location on the 6-mile Terry Hershey hike and bike trail, our vision for Ascension is to grow as a desirable healthy, lifestyle community," says Anthony Tarantino, President of Tarantino Properties.  "As seasoned property managers and active investors, we are thrilled to add the Ascension to our growing portfolio."
Ascension on the Bayou features over 30 different floor plans of one- and two-bedroom units, some of which also include a study, high-end finishes, island kitchens with breakfast bars, full-size washers and dryers, recessed lighting, walk-in closets, and every unit has a patio or balcony.  Community amenities include an infinity-edge pool, grilling area, fire pit, covered fitness plaza with ping pong tables, indoor fitness center, entertainment lounge, business center, and pet park.
Teresa Lowery, Senior Managing Director, Multifamily Houston, with Colliers International represented the seller.  Managing Director, Cortney Cole, and Analyst, Sterling Curry, with Holliday Fenoglio Fowler, L.P. (HFF) represented the borrower for financing.
About Tarantino Properties, Inc.
Tarantino Properties is a real estate investment and service company based in Houston, Texas, specializing in income-producing properties since 1980.  The company manages more than $2 Billion in assets throughout the United States providing a full complement of quality services including property management, brokerage, leasing, and construction services for multifamily and commercial properties.
Contact:
Meghan Allen
Business Development
Tarantino Properties, Inc.
7887 San Felipe, Suite 237
Houston, TX  77063
713-974-4292 Phone
713-974-5846 Fax
meghan@tarantino.com
www.tarantino.com