Tarantino Properties is a full service real estate company that specializes in managing a wide range of income producing properties. Our dedicated team of over 1000 members has the experience needed for success. We provide custom property management solutions tailored to our individual clients needs.
Tarantino currently manages
assets across 20 states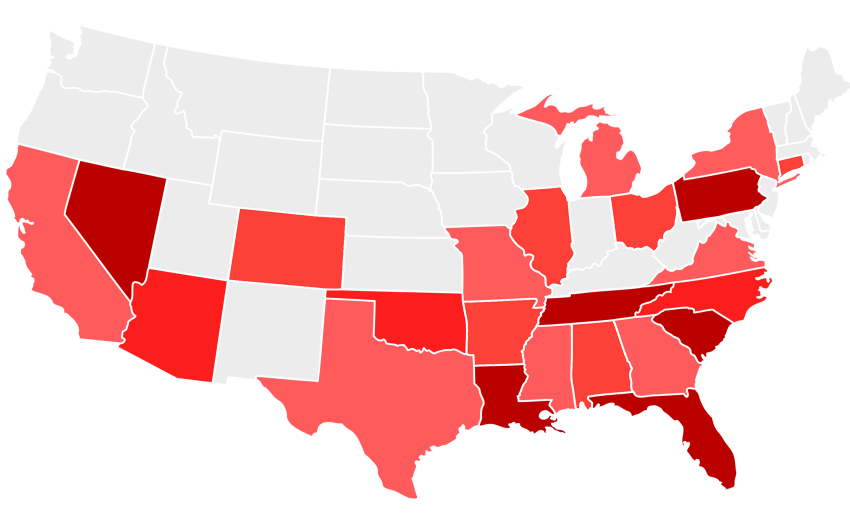 Our Services
Tarantino Properties offers a wide array of real estate services. Our experience, coupled with our vast industry knowledge, delivers the highest level of service with an unwavering commitment to meeting client needs and expectations.
Brokerage Services
At Tarantino, our professional sales team assists institutional and private investors in the acquisition and disposition of real estate. We provide a level of service and expertise that is crucial in competitive commercial and multifamily property markets. We are nationally licensed for brokerage in all fifty states, enabling our company to provide services no matter the location. Our experienced sales staff provides individualized service and contributes direct market knowledge in both major and secondary markets nationwide.
Construction Management
Tarantino teams with the best architecture and engineering firms to handle all permitting, zoning and community issues. We provide supervision and support in every step of the design and construction process to ensure that it meets the client's specifications, budget and scheduling expectations. Our experts are committed to protecting the client's interests at all costs.
Facility Management
By leveraging specialized facility management techniques, Tarantino seamlessly advances the effectiveness, profitability, and success of your business.
Accounting Services
At Tarantino, our accounting experts take care of all financial transactions related to your multifamily or commercial property. We proudly provide our clients with top quality accounting services and an unparalleled attention to detail. Our in-house Certified Public Accountant oversees implementation of cutting-edge software that produces customized reports in a variety of formats to accommodate individual preferences.
Leasing Services
Our elite leasing team is exceedingly knowledgeable of local market conditions. We use web-based data sources and tenant-rep brokers to target qualified prospects. Our expertise provides our clients with a significant advantage in obtaining and retaining tenants for their properties.
Multifamily Property Management
Tarantino's multifamily division provides management, leasing, maintenance, and accounting services for a variety of properties throughout the country. We offer the expertise and guidance to ensure that you get the most out of your property.
Receivership
Tarantino Properties, Inc. acts as an appointed Receiver for many lenders and special servicers throughout the United States. Tarantino has been assigned more than 60 multifamily property management assignments over the years.
Commercial Property Management
At Tarantino Properties, we are equipped to facilitate all aspects of your commercial property. From accounting services to construction management and daily building maintenance, we'll streamline your operation to maximize profit. We work individually with each client to create customized business plans to match your unique needs. First, we listen to your specific challenges and goals. We then develop a comprehensive business strategy and operating budget to address those needs.
Property Valuation
Estimating the value of your real estate is a critical first step in determining what is best for your asset. Whether you are considering a sale, renovation, or repositioning of your property, understanding its current value will help you maximize the results of your execution.
Distressed Asset Rehabilitation
Tarantino has many years of experience renovating and repositioning distressed and underperforming multifamily properties to stabilized, income producing assets in record time. We have a team of dedicated professionals who work for the top servicers and lenders in the nation, as well as, Freddie Mac and Fannie Mae.
Shopping Center Specialist
Connect to hundreds of major national retailers with the help of our Shopping Center Specialists at Tarantino. We'll network on your behalf to find the ideal tenant mix for your retail center.

Experience
Over 600 Years of Real Estate Experience. Our team is made up of over 1000 members dedicated to our client's success.

Service
We provide the full range of real estate services and will ensure that your investments achieve success.

Our Team
Our team provides the dedicated support necessary to grow the wealth of each client, and we do that by pairing decades of experience with unparalleled service.

Commitment
We are committed to your success and providing the highest quality of full-service property management solutions.
Join Our Team!
Tarantino Properties is successful because we surround ourselves with successful people. We are always looking for new team members who are motivated and who want to work with precision, excellence, and dedication. We are proud to offer competitive pay rates and benefit packages to ensure employee satisfaction and retain top talent.
Latest News
Read the latest Tarantino Property news.